Keeping track of our finances and saving can become quite challenging! To top off our busy lives and schedules, somehow we're supposed to manage bills, budgets, and savings? I think not! Thank goodness for Personal Finance Apps!
I've taken the liberty of putting together a list of the top 5 best personal finance apps in 202 that will help you succeed in managing your finances and reaching your financial goals!
1. Credit Karma
I cannot recommend Credit Karma enough! I personally use this app very often when checking my credit score and have set up credit alerts to keep a close eye on my credit score.
It's very interesting to dive deep into your financial history, and by doing so, may uncover items that you weren't aware of or had even forgotten about. A bad credit score negatively affects your creditworthiness, so it's always important to keep track of your score.
The app also provides great tips and tricks on how to improve your score, and also gives suggestions and recommendations on credit products based on your score.
2. Acorns
This app is almost a must for the beginner investor that wants to begin investing and take control of their finances. The app is designed to invest very small amounts for you by rounding up to the nearest dollar whenever you make a purchase.
For example, if you spend $19.10, the app will take $0.90 and invest it for you! You can also customize how much it should take, and what portfolio you're interested in investing in. Super easy to use for the beginner! Highly recommended.
3. Prism
Prism is primarily focused on helping you keep track of bills, and letting you know when payments are due! I can say from personal experience that it's easy to forget a bill or two when juggling tons of bills to pay.
The app lets you connect to your accounts and set up when the bill is due, what the total amount is, and from what account will it make the payment. And that's it!
From there, you can schedule payments from within the app without having to log into multiple billers or lenders, making it super easy and convenient, and helps you avoid making late payments and incurring fees.
4. Personal Capital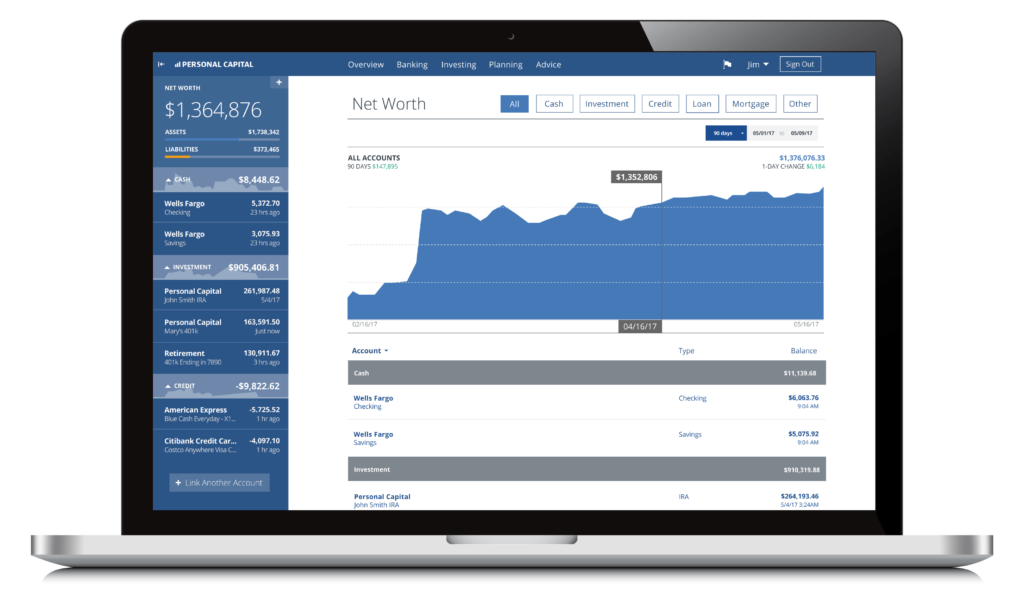 I have written multiple articles and mentioned Personal Capital so many times, I think I should work for them or something! Ha!
This incredible tool is completely free and connects to almost every single bank, retirement account, mortgage lender, you name it, it's got it! It breaks down your spending, income, bills, and keeps track of your assets. Use this tool as an indicator of your current Net Worth!
You can use this tool to also set a path for retirement and can also be used for planning large purchases or expenses like weddings, trips, etc, and lets you know if you're on track. Highly highly recommended.
5. Mint
Mint is most definitely the most well know and most used personal finance app out there.
Mint allows you to connect to your personal accounts and use the info it gets to suggest the best budget options that cater to you. It also allows you to categorize your expenses so you can have a good overview of how your finances look every month.
The app also has a credit score feature that breaks down your credit score, what all the information means, and helps you find ways of improving your score.
Final Thoughts
I hope you like this curated list of the best personal finance apps and hopefully, they will make your financial goals come to life, and make life a little simpler!
An app on it's own is just part of the arsenal. One more very important piece is to budget your finances! You should download this free worksheet and get started in budgeting.
Which one is your favorite? And do you use any of them currently? Let me know below, would love to talk more about them!
Like it? Pin it!